On Board Gang Part Programming System
MultiWriter pps (production programming system)
On-Board Gang Part Programming System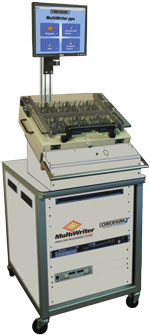 Features
Simultaneous programming™ of up to 384 parts at once
Programming unique data (date code, serial number, MAC address, calibration data, etc.) on a per-device basis
Data Encryption Protection option insures your IP (Intellectual Property) is not at risk anywhere in the world
High throughput via fast programming/verification data rates with excellent signal quality
Universal programming capability for all device familiessupported by an extensive protocol library
Application
Programming CPLDs (Complex Programmable Logic Devices) such as serial flash memories and microcontrollers after these parts have been mounted on the printed circuit board. Since the contents of Phase Change Memory (also known as PCM, PCME, PRAM, PCRAM, and C-RAM) can be lost because of the high temperatures needed to solder the device to a board, on-board programming is required.
MultiWriter pps™ On-board Part Programming Overview
The MultiWriter pps™ on-board gang programming system uses proven, patented simultaneous programming technology to program up to 384 chips simultaneously, up to 16 different types or families — typically in seconds instead of the minutes required by conventional programmers.
Compared to other part programming solutions, MultiWriter pps delivers significant speed and cost advantages over conventional in-circuit tester-based programmers when more than four parts already mounted on circuit boards must be programmed in a single pass, making it especially effective for multi-board panels.
MultiWriter pps is optimized for applications requiring programming of at least 4 parts per board or multi-board panel. MultiWriter can simultaneously program parts on multi-board panels with 10, 20 or more boards per panel.
Advantages of On-board Part Programming with the MultiWriter pps
Eliminates the requirement to track different versions of pre-programmed parts, simplifying inventory management and eliminating rework (reprogramming) costs.
Unique part- and board-specific data may be inserted into the main programming code 'on-the-fly' with the main program code, eliminating an additional downstream programming step.
In medium to high volume production environments on-board programming costs significantly less than offline pre-programming by eliminating the separate chip-handling step and reducing inventory costs. Less handling also means fewer part failures.
Product Details
The MultiWriter pps On-board Gang Programming System includes:
MultiWriter controller
Integrated PC, keyboard, mouse and display
Lambda 0-60V, 12.5A programmable power supply
GenRad 227X-compatible fixture interface
All the above integrated into system console with automated vacuum control
Windows operating system
MultiWriter control software
Purchase or Pay-Per-Use
Is Pay-Per-Use the right solution for your programmed parts?
† MultiWriter Technology is protected under U.S. Patent No. 7,802,021.