Pilot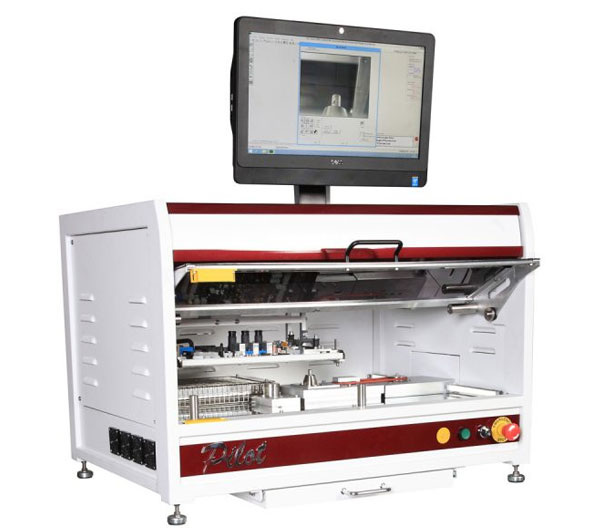 Economical, compact, single point selective soldering system
The all new ultra-low cost PILOT machine has been designed as an entry level, hand load, benchtop machine for small to medium batch manufacturers combining high levels of production flexibility with economic running costs.
Offered with two universal, quick change tooling carriers, each one can be exchanged to optimise cycle time. Each carrier is capable of handling a board size up to 330mm x 250mm.
The PILOT incorporates as standard, our patented Drop-Jet fluxer for quick, accurate flux deposition. An optional bottom-side IR preheat is also available, this is particularly useful when processing multi-layer PCB's or using water based flux types.
Description
Although a low cost system, the PILOT is offered with the ability to run the acclaimed highly flexible Pillarhouse AP nozzle technology, together with our patented market leading 1.5mm micro nozzle. The process is enhanced by a localised hot Nitrogen environment at the point of soldering. An optional Nitrogen generator is built into the base of the unit and can be used to supply Nitrogen at the required levels, whilst acting as a machine stand.
Designed for low maintenance, the PILOT offers a slide in/out solder bath design for ease of access. This in conjunction with our proven impellor driven pump technology, makes a highly reliable low maintenance system.
By carrying product over the flux, solder and optional preheat stations, the PILOT offers a light, highly accurate X, Y system.
Programming is accessed through the world leading Pillarhouse 'Point and Click' PillarCOMM software package. Optional offline programming is available via PillarPAD which allows programs to be generated independently from the machine using Gerber data.
Standard Features
Machine mounted TFT monitor with integral PC
Inerted Nitrogen system
Drop-Jet fluxer
One AP style solder nozzle tips
Internal fume extraction
PillarPAD offline programming system
Colour programming camera
Two universally adjustable tooling carriers
PillarCOMM LITE – Windows® based 'Point & Click' interface
Solder wave height measurement & correction
Lead-free compatible
Day-to-day service kit
System Options
Fume filtration system
Manual fiducial correction
Micro nozzle assembly
Multiple level password protection
Bottom-side preheater
Combined Nitrogen generator & machine stand
Specifications
Height With monitor 1050mm / 42",
with cowling 750mm / 29" – without 695mm / 27"
Width: With flux bottles 1090mm / 43"- without 915mm / 36"
with solder bath out 1380mm / 54"
Depth: 700mm / 28" to 963mm / 38" with keypad tray out
Weight: 170kg (table-top format)
Board size: 330mm x 250mm / 13″ x 10″
Edge clearance: Above / below 3mm
Height clearance: Above / below 40mm nominal
Solder: Most commonly used solder types – including lead-free
Solder pot capacity: 6kg
Applicators: AP style – 2.5mm to 16mm dia.
Extended AP style – 2.5mm to 20mm dia.
Micro nozzle – 1.5mm to 2.5mm
Jet-Tip style – 6mm to 20mm dia.
Special dedicated nozzles available upon request
Flux: Low maintenance Drop-Jet system. Low solids (below 8%), no clean flux, pressurised and inerted system, optional water-soluble system available
X, Y & Z Axis resolution: 0.1mm
Repeatability: +/- 0.05mm
Nitrogen usage: 30 litres gas/min. 5 bar pressure
Nitrogen purity: 99.99% or better
Power supplies: Single phase + PE
Voltage: 208V – 250V
Frequency: 50/60Hz
Power: 4kVA including bottom-side IR preheat
Transport: Hand load
Tooling: Integral adjustable board guides, includes finger extensions and board clamps
Programming: Windows® based PillarCOMM Lite 'Point & Click' interface
Gallery