AOI GOEPEL .
AOI Systems for High-Mix and High-Volume
Desktop AOI System SmartLine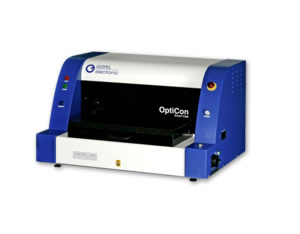 Desktop AOI System for efficient Inspection of Small Batches The compact design enables space-saving utilization at various places within the production process. The optical inspection quality is ensured by the unique multispectral illumination and integrated reference data base.
Stand-alone AOI System BasicLine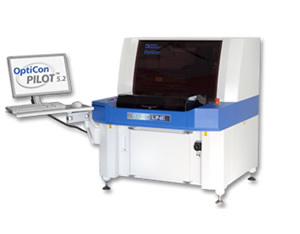 Stand-alone AOI System for manual Loading and flexible Adaptation of different Assemblies The BasicLine can also be utilized as a separate repair station and is characterized by a comfortable fault classification via keyboard. A multitude of variants and settings in illumination and camera make the system a highly precise and fast inspection device. Customized configurations and technical upgrades are also possible.
OptiCon AdvancedLine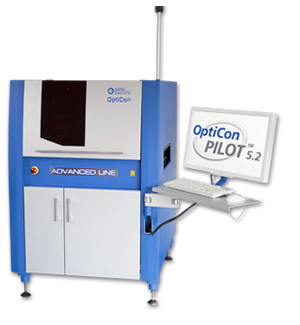 Inline AOI System for flexible Integration Opportunities The OptiCon AdvancedLine AOI system's decisive advantage is the multitude of opportunities for inline integration into the production process. The system can be utilized at each position in a PCB production line. No requirements or specifications will remain unfulfilled as your boards can be transported in each direction. The OptiCon AdvancedLine can be applied inline and also as a stand-alone system. Additionally, the system captivates through opportunities with camera and illumination configurations. The sum of all components and parameters incl. high resolution and inspection safety guarantees the highest quality for your mounted PCBs.
Safe optical inspection of THT assemblies with OptiCon THT-Line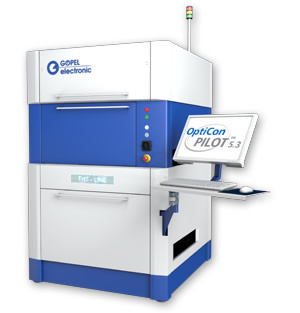 AOI System for efficient quality assurance of THT Assemblies in the production process. It can be utilised either per manual feeding or as an inline system utilising a roller conveyor transport system. OptiCon THT-Line enables the automated inspection of THT assemblies with up to 80 mm component height. OptiCon THT-Line wins "Industriepreis 2012" in category "optical technologies".
OptiCon TurboLine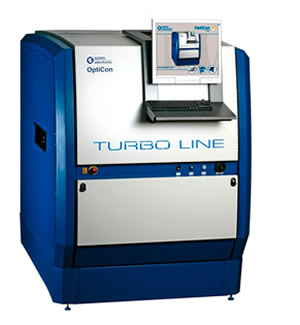 Inline AOI System for High-End Inspection in Large Scale Production The OptiCon TurboLine AOI system's special features are opportunities for double-sided inspection as well as various camera and illumination configurations. It is possible to inspect the PCB bottom side without assembly turning. This is a decisive advantage over common AOI systems as inline speed is guaranteed. The rotatable angled-view and the segmented band module also help for faster inspection. According to a repeatedly conducted customer survey, 98% of our customers gladly recommend the AOI products of GOEPEL electronic.
AOI – machine brochures for download


OptiCon AdvancedLine

OptiCon BasicLine

OptiCon SmartLine

OptiCon THT-Line

OptiCon TurboLine
AXI – machine brochures for download  

OptiCon X-Line 3D