A neutral, mildly cationic, antibacterial hand cleaner formulated for use in the electronic, clean room, pharmaceutical and food environments where any type of contamination is unacceptable. Regular hand cleaners contain soap, along with silicone, lanolin and
mineral oil which can cause contamination.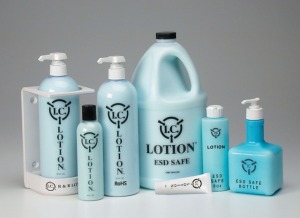 Fragranced and dye free with Aloe Vera and Vitamins A, D and E. This non-acidic formula helps relieve skin chapping, flaking, irritation and sensitivity caused by regular use of latex and nitrile gloves and finger cots. The IC hand lotion is the only hand lotion with a military specification written around it.
Key Features:
Enriched with Aloe Vera and Vitamins A, D and E, non-acidic lotion promoting softer, healthier hands and nails.
Static dissipative, helping to keep skin moist for better contact between wrist straps and skin.
Non contaminating; contains no glycerin, mineral oil, silicones or lanolin.
Absorbs immediately and is non-greasy so as to not interfere with grip or dexterity.
Meets clean room requirements for Class 10,000 to Class 1. Ion: <50ppm
Hand Foaming Cleanser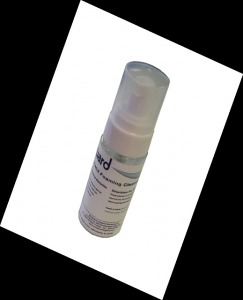 A high-density foam giving excellent coverage to all areas.
The applied foam rapidly collapses and decontaminates, killing bacteria and inactivating viruses before cleaning.
Provides hand & body disinfection where wash facilities could be a problem.
For truly effective infection control Bioguard's infection control products have been specially formulated to meet stringent user requirements whilst offering the following unique range of performance benefits. Range of Host Surfaces. Products can be used on virtually all types of environments including hard surfaces, fabrics and soft furnishings (Including uniforms, bedding, carpets and curtains). Host Surface Integrity. Bioguard products will not cause damage or degradation to surfaces, such as the bleaching of fabrics, corrosion of stainless steel or stress fractures in plastic surfaces. Environmental Impact . Environmental audits by leading European Authorities have concluded that Bioguard infection control products are non-toxic, biodegradable and non-cumulative in the eco-system therefore overcoming concerns regarding product disposal and accidental spillage. Independent Testing of Products. We have undertaken testing on various aspects of product performance and believe that this testing philosophy provides our clients with the important reassurance of our products superior performance. It is our understanding that no other hygiene and infection control company provides these levels of independent verification of its products performance. User-friendly. Our products do not irritate or sensitise the skin.
Ease of use. By providing greater usage dilution efficiencies our products provide our clients with a more cost effective infection control solution. Safe to use. Our products are non-hazardous and present significantly greater Health & Safety benefits in terms of operator risk assessments, product preparation, product use and storage of chemicals.
Microbiological Efficacy. Our product is capable of eliminating a broad range of viruses, bacteria and mycobacterium.
Cleanroom Co-Polymer Glove – Disposable
PVC Polymer Glove, Rolled Cuff
Soft and Strong Tension
Smooth Interior for Easy Donning
Low Particle Count and Low Extractable Ionic Level
Available in Small, Medium, Large and Extra Large
Overall Length: 9" or 12"
Class 10 ~ 100

Application: Ideal for Electronics Industry, Biotechnology Industry, Aerospace Science Industry, Laboratory Examination, or General Purpose.

ESD Standing Support

Suitable for use in static controlled & clean room environments
Seat tilt, steel construction
Conductive ESD glides
25" Polished aluminium base
14" Chrome gaslift, 25 stone weight limit
Seat upholstered in Medistat ESD vinyl
Resistivity: 10 x 10 Ohm

Antistatic Polyurethane Chair

Suitable for use in static controlled & clean room environments
European Standard EN 61340-5-1:2001
ESD chair specifically designed and manufactured for use in the electronics and electrical industries
This range prevents the build up of static electricity by dissipating it directly to earth
The chairs are totally ergonomic with a tilting seat and fully adjustable back mechanism
With a washable polyurethane seat and back rest this chair is ideal for use in labs etc
Compliant with European Standard classification

Clean Room Safe Static Dissipative Bottles
These molded polyethylene bottles utilise a concentrate that does not contain any Ethoxylated Tertiary Amine, which is widely used as an antistatic agent. These ESD safe bottles have an average surface resistivity of 109 to 1010Ω/square and do not have any less desirable features associated with surfactant laden material. These bottles will dissipate a static charge of +5000V in less than 2 seconds at 40% relative humidity. By their chemical nature, they will not have any chemical reactivity with solvents as TCE or alcohol. The pH of the deionised water solutions tested were the same before and after a seven day period. No colour or physical change was noted for any solvents tested.
Cleanroom Garment Range