SOFTWARE
PARYLENE COATING
Parylene is a trade name for polymers vaporized on the surface of objects to protect against moisture and produces a diaelectric barrier. It creates an excellent moisture barrier and is used to cover PCBs, medical devices and in many other applications. The coating created by Parylene has Bio-Medical properties and is used to coat: stents, pacemakers, defibrillators and other devices permanently implanted in the body. Parylene C applied to the PCB shows very good adhesion to all components installed on it.
Features and Benefits:
A hydrophobic chemical resistant coating with good barrier properties for inorganic and organic carriers of acids, alkalis, gases and water vapor
Biostable coating
The coating is applied without temperature loading of the substrate because the coating takes place at room temperature in a vacuum
Highly corrosion resistant
Completely homogeneous surface
Stable to oxidation up to 350 ° C
Low internal stress
Low coefficient of friction
Very low gas permeability
Typical  applications:
Hydrophobic coating (moisture barriers, for example for biomedical hoses)
Barrier layers (e.g., filter, membranes, valves)
Microwave electronics
Implanted medical devices
Sensors in difficult conditions (e.g. car fuel / air sensors)
Electronics for space and military applications
Corrosion protection of metal surfaces
Strengthening micro structures
Protect plastic, rubber, etc. under harmful environmental conditions
Reducing friction, for example, for guide catheters, acupuncture needles and in micro electromechanical systems.
Download:


Presentation Parylene
ACCESS CONTROL

To ensure the best quality and reliability of their electronic products, manufacturers should have an ESD protection system. Access control to the EPA zone is an important element of the entire system. CPS-IEP provides customized computerized access control systems for the EPA zone.
The basic version of the system include:
tester,
ID card reader,
computer,
gateway.
The system allows you to collect personalized information about test results and complete reports.
Automatic
Speed, stability and precision are the hallmarks of CAMALOT automated dosing systems. Innovative drive constructions allow high acceleration even on short sections with simultaneous ground stability. As a result, CAMALOT provides the highest level of precision in applications from solder paste, through "Underfill" and adhesive application. A wide range of dispensing systems will enable tailoring to the customer's needs.
The Camalot® Prodigy ™ dispensing system uses breakthrough technological innovations to enable higher process speeds, greater accuracy, better tolerance and higher productivity.
The state-of-the-art XY drive system is the heart of this device. The linear motors used in the drives as well as the improved motion control architecture and rigid, innovative frame construction ensure unmatched performance and reliability.
The technical details can be found in the data sheets.
.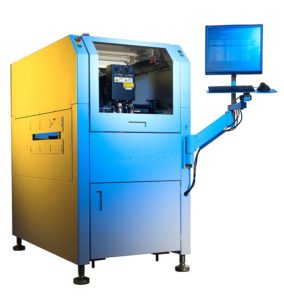 Machine brochures to download below:

Dynamic Dual Head™

NanoShot™

NuJet™

Prodigy™
SUPPLIES & CONSUMABLES
MACHINES AND EQUIPMENT
ANTISTATIC

We offer a wide range of ESD products ideally suited for use in an ESD environment protection.
SERVICE
We provide equipment maintenance services of: FUJI, GOEPEL, PUREX, Rommel, SPEEDLINE, TAKAYA.
CPS-IEP provides the following services:
warranty and post-warranty
installation and configuration of equipment
line optimization and production processes
service contracts
valuation of machinery and equipment
assessment of the technical condition of machinery and equipment
For all of offered devices we provide spare parts.
For availability and prices please contact service management.