Automaticon_2022
After a two-year break caused by a pandemic, Automaticon trade fair took place on 26-28 January. This time our company took part in it as an exhibitor. On our stand, besides the AOI robot, there was a place for other inspection equipment from CPS offer. Visitors could see the microscope manufactured by Ash and the device for automatic optical inspection 3D Xceed manufactured by Parmi. Detailed information about the above mentioned devices and our offer can be found on our website – links below:
1.  OFFER
3. PARMI  AOI  3D
We would like to thank everyone who visited our stand during Automaticon 2022 and invite you to contact us for detailed information about our offer and company. According to the organizers, during Automaticon 2022 there were 218 companies presented, 4534 visitors and 150 companies represented by exhibitors, workshops and seminars were attended by 246 people.
100,000 modules NXT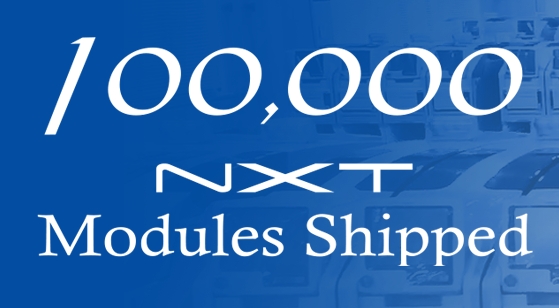 Our NXT-series Fuji Scalable Placement Platform has hit a milestone of 100,000 modules shipped.
On the behalf of all of us at Fuji, I would like to express my gratitude to everyone who has continued to believe in the capability of these machines, because it is thanks to your support that this achievement was made possible.
NXT first went on sale in 2003, at the start of a period of growth in the digital appliance market.
It has been 18 years since then, and throughout that time the NXT has continued to deliver support for all kinds of production types and new technologies that developed as electronics production continued to evolve, because of its true modularity.
The third-generation module NXT III has been used by our customers to fulfill a multitude of purposes, such as the production of mobile devices, automotive products, and server computers, in processes ranging from prototyping to variable-mix variable-volume production.
Electronic devices are indispensable for the enrichment and convenience that they bring to our daily lives. To uphold a high level of quality and productivity when manufacturing these devices, and so that our machines remain the dependable manufacturing tools that our customers need, we will keep moving forward to include functions that meet the requirements of the times.
CPS has partnered with YJ Link
On December 1, 2020, CPS signed a distribution agreement with YJ LINK, a Korean manufacturer of machinery and equipment for PCB transfer in the SMT / THT production line area.
YJ Link Co., Ltd. is a global supplier that manufactures intelligent conveyors, laser or ink jet PCB marking machines, depenalization routers as well as automatic intelligent storage in the SMT component roll production area.
Thanks to continuous product development, the company is valued for its quality, responsiveness to customer needs and flexibility. YJ Link products are included in many AVL (Approval Vendor List) lists around the world and are known and appreciated by manufacturers in the automotive, medical, defense, consumer electronics, medical and many other industries. YJ Link is the leading manufacturer of SMT peripherals in Korea with continuous sales growth year over year.
PRODUCTRONICA 2019
The company CPS-IEP Sp.z o.o. is pleased to invite current and future customers to visit the largest in Europe and one of the world's largest industry fairs related to the production technology of electronic equipment PRODUCTRONICA 2019. All information about the location, travel, organization of market halls and the full list of exhibitors can be found at PRODUCTRONICA 2019
We encourage you to visit the stands of our trading partners, whose short list with the location including the hall and stand number can be found below: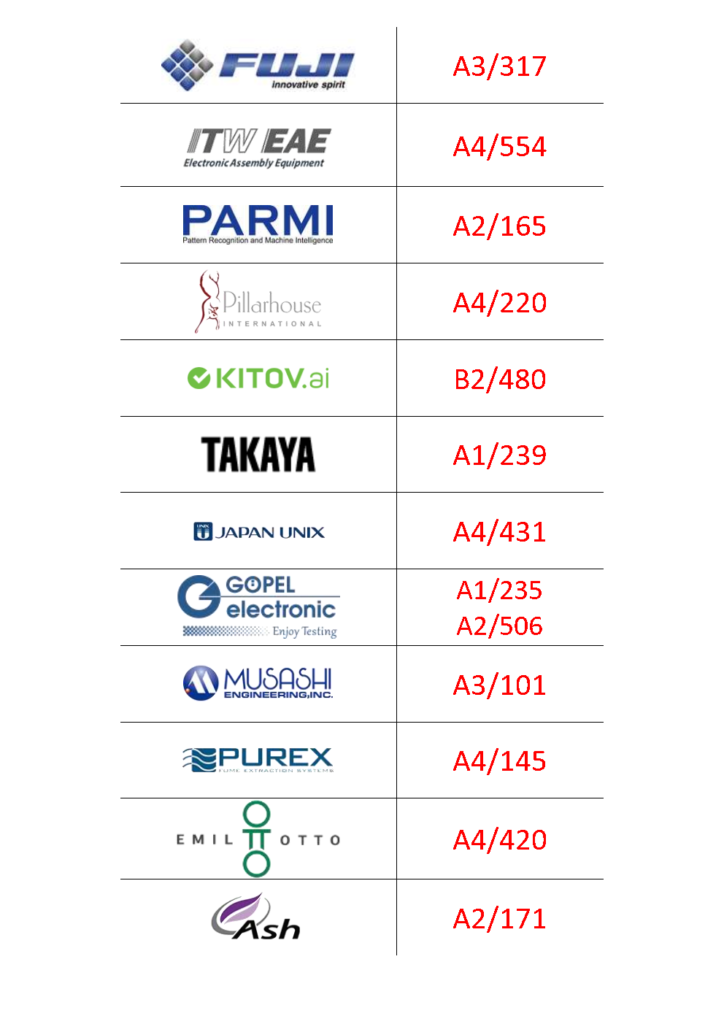 Individuals and companies interested in visiting the stands of our trading partners, please contact the office of CPS-IEP Sp. z o.o. to agree a convenient date for a meeting during PRODUCTRONICA 2019 and possible assistance in organizing free admission tickets.
See you in Munich
CPS established cooperation with Kitov, a producer of intelligent optical inspection systems
Kitov.ai is a supplier of smart visual inspection solutions for a broad range of production lines in the high-end electronics, industrial equipment, defense and aerospace, automotive and medical device industries.
Kitov develops a fully automated, universal and flexible 3D visual inspection system that can be trained by a non-expert in a fast and intuitive manner to inspect a large variety of products.
Kitov's systems help manufacturers to boost quality by:
Reliably detecting all defects of interest (that are often missed by human workers)
Proactively eliminating defects by analyzing data and gaining valuable insights about the production product and product design
Automating the visual inspection process, improving operational efficiencies and saving costs
Achieving high-level of traceability and analysis by recording all visual inspection images
Shortening time-to-market of new products.
Kitov's technology is leveraging Computer Vision, Artificial Intelligence capabilities including Deep Learning, advanced Robotics and Big Data Analytics.
Kitov's first model, Kitov One was launched by mid 2016 and was successfully deployed by first-tier customers such as Rafael, Jabil, Flex, USI, Denso with over dozens of installations in Europe, China, Malaysia, USA, Mexico, Japan and Israel.
Kitov was recently selected as one of the TOP 10 MACHINE VISION PROVIDERS 2019 by CIO Applications Magazine. In 2018 Kitov One has received a platinum-level award for innovation by the Vision Systems Design Magazine in recognition of its breakthrough technology that "enables operators with no previous machine vision, robotics or programming to set up the system in just a few hours."
Evertiq Expo, Warsaw, 16th May 2019
On Thursday, May 16, 2019. the Evertiq Expo conference (previously TEC) was held for the first time at the PGE Narodowy stadium. Over 165 exhibitors presented their companies in a new place. In total, the event was visited by more than 1,400 people, of which the number of registered visitors in the system is 834 (source: evertiq.pl). Among them we were together with our guest Takayuki Watanabe (Japan Unix). Below are photos of our stand and some of our products. We would like to thank all visitors to our stand during Evertiq Expo, and those who could not reach we hope to see you next year.
SMTconnect 2019 Nuremberg
As every year in the spring, sometimes earlier, sometimes later in the city of Nuremberg, a fair called SMT is held in Poland. However, this is not the full name of the event, which from this year is SMTconnect. No one is surprised by the fact that many of the 13,000 visitors to the fair are Poles. We do not have events in Poland that are even similar in size to SMTconnect, so if we want to be up to date in the world of electronics production technology, there is no other way – there is no other party close to Poland. Below are some pictures taken during the fair, where there are stands and products of our suppliers. Among the new products is the new screen printer from ITW-EAE, MPM Momentum II HiE, whose main parameters are on one of the photos. At the Fuji stand, in addition to the already known devices, it was attracted by the sTower magazine, which in cooperation with the NEXIM software facilitates the work of operators on the SMT line.
The next edition of SMTconnect will take place from May 5 to 7, 2020.
SMTconnect Show 7th -9th May 2019 Nuremberg
We invite our current and future clients to visit the SMTconnect fair in Nuremberg, which will be held on 7-9 May 2019. For more information about lectures, seminars and discussion panels, please visit https://smt.mesago.com/events/en.html
Bellow you can find the list of our partners.
| | |
| --- | --- |
| Company | Hall/stand |
| FUJI EUROPE CORPORATION GmbH | 5/325 & 5/434B |
| ITW Electronic Assembly Equipment | 4/229 |
| Parmi Europe GmbH | 4/325 |
| Takaya (Systech Europe GmbH) | 4A/336 |
| GÖPEL electronic GmbH | 4A/222 |
| Musashi Engineering Europe GmbH | 4/201 |
| Emil Otto Flux- und Oberflächentechnik GmbH | 4A/144 |
Invitation to Evertiq Expo Warsaw 2019
We would like to invite you to visit our stand No. 29 and 30 during Evertiq Expo 2019 in Warsaw, which will take place on May 16, 2019 at the PGE Narodowy stadium.
What is EXPO WARSAW
The offer of products and services of dozens of suppliers.
A series of interesting lectures, presenting innovative solutions in the field of electronic assembly, design of systems and components.
Lunch and snack buffet, creating the right atmosphere for meetings and conversations with clients and industry partners.
Detailed information about Evertiq Expo 2019 in Warsaw You will find HERE