100,000 modules NXT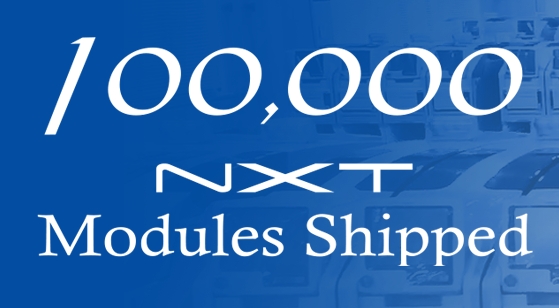 Our NXT-series Fuji Scalable Placement Platform has hit a milestone of 100,000 modules shipped.
On the behalf of all of us at Fuji, I would like to express my gratitude to everyone who has continued to believe in the capability of these machines, because it is thanks to your support that this achievement was made possible.
NXT first went on sale in 2003, at the start of a period of growth in the digital appliance market.
It has been 18 years since then, and throughout that time the NXT has continued to deliver support for all kinds of production types and new technologies that developed as electronics production continued to evolve, because of its true modularity.
The third-generation module NXT III has been used by our customers to fulfill a multitude of purposes, such as the production of mobile devices, automotive products, and server computers, in processes ranging from prototyping to variable-mix variable-volume production.
Electronic devices are indispensable for the enrichment and convenience that they bring to our daily lives. To uphold a high level of quality and productivity when manufacturing these devices, and so that our machines remain the dependable manufacturing tools that our customers need, we will keep moving forward to include functions that meet the requirements of the times.